Product Description
The Photo Booth business and networking seminar is a business conference hosted by the largest photo booth manufacturer in the UK, Photobooths.
Inviting current photo booth operators, and those considering joining the photo booth industry, this seminar will discuss tips and tricks contributing towards photo booth business success, inviting some of the biggest players in the market so far.
We have a range of expert speakers from within the photo booth industry, including the owner of Picture Blast, established since 2008 with a history over 7,500 events.
Please note: The exact opening times will be published on our website closer to the date. We reserve the right to adjust the times based on demand.
Speakers include:
Tim Warrington – CEO Photobooths.co.uk
"The current photo industry and the future of photo booths. How to adapt the new business model"
Paul Entwhistle – Owner Pictureblast
"How I managed to build my business to run 30 daily events"
Dionne & Gerald – Owners Snaptcha
How to attract and retain Corporate clients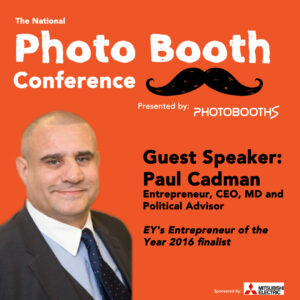 Chris Wood – Software Architect at Photobooths.co.uk
"How to utilize free software to manage your business"

Gary Barker – Kennet Leasing
"Understanding the tax savings when using a financial lender"
Guest Speaker
Paul Cadman – Entrepreneur, CEO, MD, and Political Advisor
"How to successfully tackle common business challenges as an entrepreneur in a fast-paced industry"