Summary
This quality used Magic Photo Mirror FLITE is our lightest Mirror yet and comes with 10 months manufacturers warranty.
Stand in front of the mirror and touch the specially integrated touch screen to take a full length photo. Once your photo has been captured, personalise your photo with paint, by drawing a picture or scribbling a message on screen. The Magic Photo Mirror also has a selection of emoji stamps you can add to your drawings. Collect your prints in less than 10 seconds.
Included within this package:
1x Mirror Flite
Silver and white frame
Mirror software
LCD screen
70" touchscreen mirror
LED Photography light
Mitsubishi Printer
Canon SLR
Windows PC
Mirror software
Remote control keyboard and touchpad
Wi-Fi Receiver
Paper and ink (400 pictures)
12 months 24-7 support
10 months manufacturers warranty
12 months software updates.
Please note that the 12 month referral system offer is not available with this product.
Full Product Description
The Magic Photo Mirror FLITE is our latest edition of the Magic Photo Mirror, developed by Photobooths in 2016. The Magic Photo Mirror FLITE combines the love of a selfie along with the importance of capturing a full length photo. The Magic Photo Mirror FLITE takes high quality photographs using a DSLR camera, and prints them in under 10 seconds using a Mitsubishi Sub Dye Printer. Photos can also be uploaded to Social Media (Facebook/Twitter) or shared via email. We've designed the Magic Mirror to be quick, as there's nothing worse than queueing! Get your photo taken, signed and printed all in less than half a minute.
The Magic Photo Mirror FLITE is encased within a lightweight flight case on wheels, with a removable padded cover to protect the touch screen. Measuring at 1.57m(H) x 0.92m(W) it's the perfect size to fit into an estate car.
The touch screen is made from toughened 5mm reinforced safety glass, so you don't have to worry about breakages. Infact our glass is thicker and stronger than a car windscreen. All electrical items including the highest specification of dye sub printer, are all housed inside the Mirror for protection and safety reasons. The window to access all electrical equipment can even be padlocked if you wish to leave the Mirror unattended.
The software for the Magic Photo Mirror FLITE is exclusively built by us here at Photobooths.co.uk and is designed to make customising your mirror easy. Offer your customers a unique experience by uploading your own backgrounds, adding your own sounds, or even adding logos for corporate clients.
The Magic Photo Mirror FLITE is capable of taking both singular 6×4″ prints, as well as multiple shots, which create a 3 photo collage also on a 6×4″ print. Using the on screen paint pad, guests can scribble a custom message or their name to personalise their photo.
Recently updated, the Magic Photo Mirror FLITE is now capable of Green Screen prints, which when used in conjuction with a green screen background, will allow you to select images to replace your current background scenario.
Car Transportation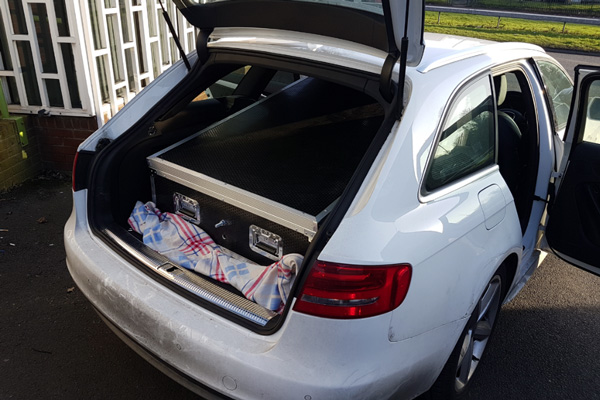 Example Photos
Click to enlarge

Magic Photo Mirror (Unit)
Fully enclosed lightweight flight case with integrated printer shelf, padded lid, wheels, and carry handles
Standard mirror frame (various designs available)
70″ interactive touch screen
LCD display screen
Electrical Equipment
Software: Windows mini PC with Mirror Software (Languages: English, French, German, Russian)
Camera: Canon 1300D DSLR Camera
Printer: Mitsubishi CPD70DW Printer
Paper/Ink: 400 Paper/Ink
Wi-Fi receiver
Photography Light
Support
Support: 12 months 24/7 UK support
Software updates: 12 months software updates
Training
FREE training upon collection
Additional Extras (+£)  ContactLess Payment System*, Hollywood LED Frame, LED Strip Lights, LED Magic Eye, Branded Skins, Coin Acceptor
* Requires a subscription to Nayax payment system commission charges do apply
Guarantee
10 months manufacturers warranty across all electrical equipment
Support
Full training provided in our dedicated collection zone
9-5 Telephone Customer Support
24/7 Emergency Support (Private Mobile Number) (Available with Electrics only options)
12 month software updates
TeamViewer Access (Allows us to access your machine with a valid Wi-Fi connection)
Delivery Options
FREE collection and training at our West Midlands showroom
UK Delivery (Shipping based on address)
Worldwide Delivery (Shipping based on address)
Notice:
12 months referral system offer is not included with second hand purchases.
Product Features / Build Features
Toughened Glass – Tougher than a car windscreen
Built in integrated printer with photo catcher
Self enclosed Mirror frame (protected when transporting)
Software Features
Easy to use software
100+ Pre loaded hand drawn flash animations
Sounds & voice overs from artists including BBC Radio 2, Britains got Talent finalist
10+ Pre Loaded Templates
Live Preview
Sign your photo signature with exclusive emoji stamps
Adjust number of copies
Green Screen (Hollywood style)
Facial Detection (Digital face props)
Coin acceptor (Charge per print) (+£)
Live Cloud Streaming
Social Media Integration (Facebook, Twitter, Email)
Available in 6 languages
And more…
300 – 575mm (D) x 1570mm (H) x 920mm (W)
Weight: Approximately 65kg* (Flight Case only)
*Weight may vary on build materials