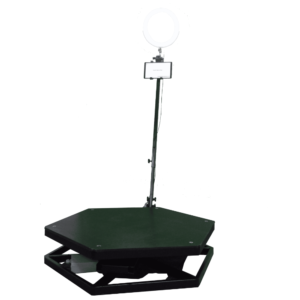 Purchase your 360 Photo Booth today! This is an awesome way to provide guests at weddings or private events with 360 Photo Booth.
Start or add to your existing business right here.
What's Included Within The product Package?
The first thing we supply is a fully assembled 360 platform, all of which can be adapted to your needs. Aside from that, you will also receive a multi-jointed arm that helps add flexibility to every shot in an exciting way. We will also include a secure system with speed control interface which allows you to control the platform from your own mobile device.
360 Photobooth Platform – 100cm platform with multi-jointed arm, Photography ring light, speed control system, 2 years warranty and support
Product Comes with Two Years Warranty and Made in BRITAIN