It's not a secret fact that photo booths spinning is absolutely popular with guests; however, are they secure? We review the top alternatives of spinning booths and evaluate the dangers associated with them.
What is a Spinning Photo Booth
The spinning or 360 photo booth can be the perfect option to show guests the opportunity to view a 360-degree video of their celebration.
Participants sit on a circular podium with a camera that is attached to a long arm moves around the Podium to capture an all-around video.
It is now a major event because it is unique. Instead of a standard front-facing picture, it lets you capture a fuller image and remember the day from all angles.
Photo booths that spin, commonly referred to by the names rotating booths or 360 photo booths, have the option of manual or automatic.
Although we're all drawn by technological advancements, and the automated option may sound more appealing; however, there are important advantages and drawbacks to take into consideration in the different choices.
Suppose you own an enterprise that rents out photo booths.
You need to be sure that you're investing your cash carefully, which is why we've broken down the advantages and disadvantages to help you.
Manual vs. Automatic Spinning of Photo Booths
The difference between these two booths for the photo is quite basic, but it can make a huge difference.
A photo booth that is automated makes use of a motor that spins the camera in the direction of the axis, which allows it to be operated via remote. For the manual booth, you only need to push it, and it will spin around.
This makes automated spinning photo booths more complex. There's more that could be wrong with mechanically, and then you've got all the cables and wires that are associated with automation.
The issue for businesses that operate photo booths to ask is, "do the benefits of automation outweigh the extra hassle this brings?"
The best aspect of the manual spinning photo booth is that there's not much to fail. It's a basic layout that's simple to put up, uses only a few components, and can be folded away easily at the end of the day.
It's also extremely secure. It's also the main box to check when renting equipment such as the photo booth.
How secure are spinning photo Booths?
Risk is an integral part of business, which is why we carry insurance. Even the simplest photo booth is not without some degree of risk;
However, as business owners, we try at reducing this risk as much as feasible.
A camera that spins around a pendulum very fast, there are a couple of safety issues to think about.
In this sense, the manual spin camera booths offer a safer alternative to automated ones, and that's something prospective buyers should think about.
Photo booths are usually located in very busy environments. There's plenty going on at large parties and events, which means there's plenty to consider from a safety standpoint.
Wires and Chord
A manually spinning photo booth is not high-tech. It's as simple as attaching a mobile to the arm's mount, and it will record.
There aren't any cords or wires, so there's no need for the plugin, and there's no requirement to locate outlets or conduct wires through a large hall for an event.
When you're at an event that is busy, this can be an incredible benefit.
If there are wires, there's a chance of trip hazards especially attending a gathering with alcohol served, and this is exactly what you'd prefer not to have.
Of course, if you are using an automated spinning machine, it's important to want to make sure that everything is safely secured, but with a manually spinning photo booth, There's no need for these extra steps, and there's less that could fail.
People jumping off the Podium
No matter what rules you establish you set, not everyone will be able to adhere to them
When you have cameras moving around a podium, the evident rule of thumb is you should not jump off when the camera is moving.
But, you'll be working with youngsters and frequently drunk people who don't always adhere to the guidelines.
You must think about security for both individuals who will be using the booth as well as the burden it will take on the equipment.
A photo booth that is manually rotated is sturdy and durable. Because there's no motor running it, it's going naturally slow down instead of letting the motor provide power through contact. This makes it slightly accommodating and also places less stress on the device.
The more time your automatic photo booth is stopped by an individual leaping off and on, the more likely it will be because of stress on the motor.
Feet Catching The Arm
Sometimes the feet of people are pushed towards at the top of the stage and reach out to grab their arms – it's very easy to accomplish.
It shouldn't be an issue for safety in either the automatic or manual spinning photo booths because it's a delicate contact.
 But, with the automated rotating photo booth, it's likely to place additional strain upon the motor.
Footfalls of people will always be caught by the arm numerous times during a rental, and this will cause wear and tear that your machine is subject to.
There's Nothing To Go Wrong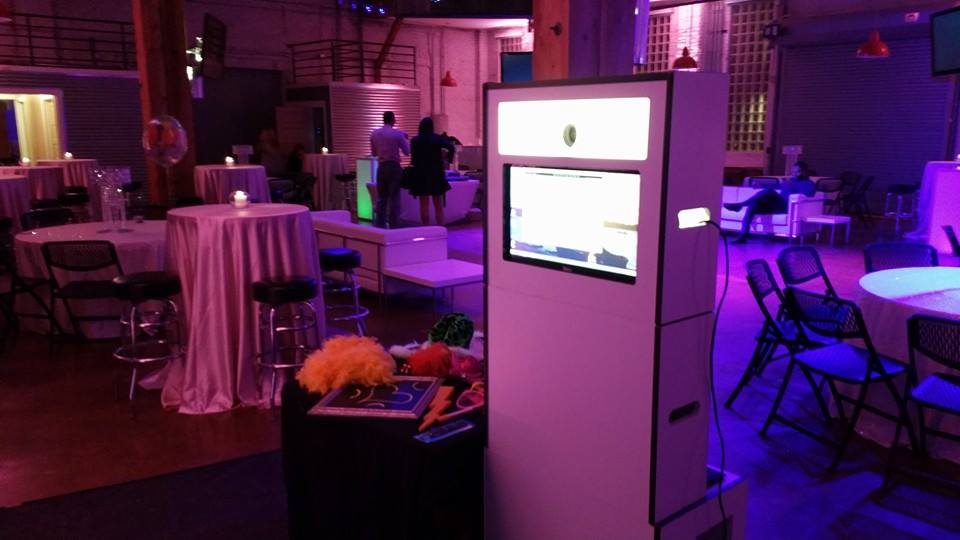 In the end, when you're concerned about safety, you'd like to see to limit the number of things that could happen as they can.
With a podium that is raised, it is inevitable that there will be a risk of someone falling the platform, but that's an inherent feature of the design.
 In addition, the most effective way to minimize the risks of falling is by using manually spinning photo booths.
In the kinds of settings where photo booths are used and in the types of environments that are popular, the automated spinning booth isn't able to provide enough advantages to outweigh the additional risk.
You're looking for something simple to use, requires little maintenance, and provides maximum enjoyment. The manual spinning photo booth checks all of these boxes.
Purchase A Spinning Photo Booth
The spinning photo booth is an investment in your company. They provide something unique, and guests are raving about them!
We at Photo Booth Co Uk, know what you need since we started our career as a rental company. We understand what it's like to have to weigh the safety of technology against the risks to your business, and we're here to assist you in making the right decisions by providing our knowledge.
For safety, we believe that spinning photo booths are secure. However, the most reliable alternative is the manual ones. Get the most out of these photo booths by getting the quote today!