Are you thinking about starting a photobooth business and making the move to become your own boss, or simply just as a rewarding side hustle.? Join a network of successful photo booth owners and start earning extra income by working the hours that suit you.
The entertainment industry is back and booming, with more and more people looking at new and exciting ways to celebrate weddings, engagements, birthdays, corporate events and more.
With the demand for experience entertainment growing, so too is the demand for photo booths for hire, making this the perfect new venture for you to earn that extra income.
Running a photo booth business is a great way to meet new people, develop new skills and build yourself a better future and best yet – you don't have to have any experience to get started.
"If you don't build your dream, someone else will hire you to help them build theirs"
Not only can starting a photobooth business generate a significant income, well above the national average but it can also give you flexibility in your work hours or be an additional income over and above that provided by a 9-5 job.
Why Start A Photobooth Business?
With an ever-growing events industry along with increasing interest in creating experiences and memories, more and more people are looking to start their own Photobooth business to supply the rapidly increasing demand.
A proportion of the people who approach us are either looking for an alternative income to give them the flexibility to consider getting out of a dull and boring job or career.
Others want to be able to earn an income that provides them with the flexibility to be able to spend more time with their children, partners, or other relatives during the weekdays.
And then of course there are those that can see the potential of developing a significant business from both private and corporate photobooth hire by gradually building up the number of booths they operate.
What's In It For Me?
Become your own boss – no more being instructed what to do
Work your own hours – take a lie in, maybe a holiday without notice?
Meet new people – meet customers as well as other photo booth owners
Join in celebrations – share the fun!
Set your own prices – you can choose your profit margin
So what makes the Photobooth Industry so appealing?
Profitability
Providing a rental photo booth business is highly profitable and yet has low running and maintenance costs. In fact, it is one of the cheapest businesses to get started. There are few outgoing costs and it's easy to set your own prices.
Growing Demand
The photography industry has boomed over the last decade, with more people looking to create and save memories in the format of a "selfie".
There are also more and more reasons to celebrate. Along with endless birthdays and weddings, we have seen the introductions of more niche events such as engagement parties, teen and juinor proms and even divorce parties
Flexibility
Becoming your own boss means having the flexibility to work your own hours. You can work bookings around your schedule, and advertise your
business in your time.
No prior experience is needed and as an owner of your own business, you can have the freedom to live life on your own terms.
What Could I Earn?
What you can earn with a Photobooth business depends on several factors:
What method you use to buy the booth (cash/finance). Finance will increase your outgoings
How much you set your prices to hire
What the competition is like in your area
What the demand is like in your area
How many booths you own (can you do more than one event on a weekend?)
How much time and money you are willing to spend promoting your business
How far you are willing to travel to events and how much this will cost in fuel
If you sell merchandise at your events, how much will you charge?
If you host the events yourself or pay for an attendant to be there

How much you can earn depends on how many bookings you take and at what price you charge minus expenses.
So What Are The Typical Costs For A Photo Booth Start-Up?
What makes starting a Photo booth business a desirable business prospect is low level of start-up costs required:
The main initial cost you will incur is the cost of the booth itself, although you may already have the funds lined-up for this, whether from savings, bank loan, credit card or other finance options.
The outgoing costs are quite easy to calculate, as there aren't very many of them! Here is an overview below:
Set up Costs
1. Cost of the photo booth itself or other venue equipment (usually from £2,499 + vat depending on the style of booth you choose)
2. Marketing – website, business directories, posters – it's up to you how much or little promotion you do!
3. Props – optional
4. Transport – you may already have a suitable vehicle, or need to change or buy one
Ongoing Costs
1. Ongoing expenses: travel expenses, consumables eg. paper/ ink
2. Your time! – getting enquiries will take time – make sure you dedicate time to marketing your business. Remember it will require your time in hosting events too…
3. Business insurance – You will need Public Liablity(PL) as an absolute minimum and if you want to cover your equipment, then some form of equipment insurance including whilst in transit.
If you employ help with events you will also need Employers Liability(EL) and of course ensure your car/van insurance includes business use. We would recommend speaking with a broker or photo booth insurance specialist
4. Attendant – you may decide you want to hire an attendant to manage the booth at events rather than use your time. It's not essential.
With a Photobooth business you have the opportunity to make profit from your very first month of trading.
See our example cash flow table to see how increasing your bookings from 2 through to 4,6 or 8 per month can grow your profit.
Assumptions:
Hire period per event of 3 hours at total £370
Radius of operation up to 50 miles from base
Fuel based on average 38.8 mpg and a top end round trip of up to 134 miles
Example photobooth business insurance based on new start-up inc EL and £5m PL, located in central England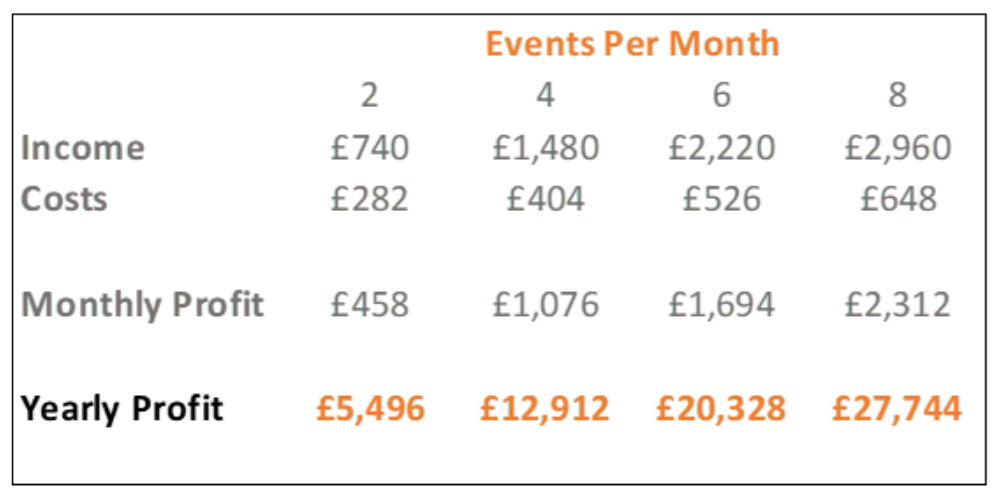 Based on a 3 hour hire and allowing for a further 3 hours travel/set-up time this equates to an average hourly rate of between £38 and £48 per hour!
Should I Start A Business In A Recession?
You may be surprised to learn that one of the UKs first and at one time largest photobooth hire businesses grew out of the financial crisis of 2008. At one time they had up to 42 booths available to hire and an annual turnover in excess of £650,000.
It is also often said that one of the first things to get cut during a downturn is marketing. With this being the case, it also provides new start-ups with their greatest opportunity.
Whilst others will be cutting back on their marketing activity as a new business you will be going full steam ahead and often with the added assistance of friends, family, ex-collagues etc, keen to see you grow and succeed.
You will also like be using a greater mix of marketing methods to get your message out as quickly as possible.
You'll also be in a business that is relatively unhindered during recessionary periods. On one hand, you will be similar to an event management business, wedding organiser and photographer all rolled into one. In harder times people and businesses seek to promote more positivity and look for entertaining and creative ways of doing so through their events and you will be in the right place at the right time to provide that service.
And people still have weddings and will still want to make it as memorable as possible for their friends, relatives, and guests.
So whilst they may opt for a slightly less expensive wine on the tables or turkey instead of chicken, they usually still go all out on the entertainment, especially where it captures photos and video that can be enjoyed for many years to come.
And if you require any added inspiration you only need to look at the likes of Graze and PureGym which were also both founded at the height of the last major financial crash of 2008/9.
Step 1 – How To Start A Photobooth Business
The first step is to determine if a move to start a photobooth business would be suitable for you. If you enjoy being sociable, in the company of other people and working varied hours then this type of business is ideally suited to you.
It may sound harsh but if this does not describe you, then I would recommend looking at an alternative unless of course, it is your intention to hire and train booth attendants to operate your booth(s) from day one.
Also, consider your transport. Do you currently have a suitable vehicle or will you need to change or purchase a new one for the type of booth you wish to offer?
Before going ahead with your photobooth business, its best if you can establish what your business is going to do. It sounds simple, "we're going to hire out a photo booth", but there are so many different types of people who want this service, it might be worth targeting someone or something specific.
For example, you may want to focus on wedding hire, or you may want to focus on large corporate hire. It's completely up to you. You could go for everything and be the master of all trades, but bear this in mind when you start to think of what kinds of booth you want and in what design.
It's unlikely that a wedding event would want a Photobooth that said "Happy Birthday" on it!
Step 2 – Market Research
The next step on how to start a photobooth business is to do your market research, especially in your area.
As a starting point your will be interested to note that following the pandemic it is estimated that there were approximately 800,000 weddings postponed, and whilst a fair proportion of these were held between late 2021 and late 2022, there is still a huge "backlog" of weddings in addition to the yearly average of approx 278,000.
And that is in addition to the millions of celebration parties, corporate diners, awards, and other events each year in the UK.
It is also important to do your local market research and identify any potential competitors. Start with a simple Google search and identify any similar businesses within your area.
Having done that, take a look at their website and see what areas and types of events they cover. Also, have a look at the types of booth(s) they operate. This may be useful when choosing which type of booth(s) you decide to offer as you may identify a huge gap in your local market.
Also look at their pricing and offers. Ideally, record all this in a spreadsheet or other document that you can easily refer back to.
You may also want to plot locations and areas on a map to again identify opportunities for your new business.
Step 3 – Choosing Your Photo Booth Supplier
Your next step on how to start a photobooth business will be your choice of supplier. The only thing I will say here is to choose wisely. As booth manufacturers, we always encourage potential booth owners to visit a number of suppliers to see and experience their booths first hand.
Photobooths.co.uk is the largest European manufacturer, and whilst we would love to have your custom, we always welcome you to shop around. We offer the best value photo booths at the best value price, but for peace of mind you may want to look around. It's always good to have something to benchmark against.
When choosing a supplier, seek an established supplier that you are able to visit, both to see the range of booths on offer ahead of making your decision and also to receive training on the assembly and operation of your booth after purchase. Customer support can be equally as important as the booth itself.
There are a number of 'bedroom' operators out there that pretend to be direct manufacturers or suppliers but simply take the details of your requirements, approach a manufacturer, often in China and add a premium on top but provide little in terms of advice, training of after care service. Be very wary of these.
Booth vs Package
You will notice that some supplier's will have a considerably lower price on a Photobooth than others. There is usually a reason for this; look out for the difference between a Booth and a Package. A package will usually include extra support to help your business, for example, a telephone helpline, or a personalised website.
When you purchase just "a booth", it most likely will not come with any support or assistance, probably not even a manual!
Always consider the "full package" that the supplier offers, there may be some services that one supplier offers that another cannot.
Step 4 – Decide On A Name
When you have completed your research and from that chosen your booth(s) you are then best placed to decide on a name for your new business.
Think of a catchy name that describes you and your business (eg. Don't call yourself Mad Hatters Photo Booths if you are a quiet individual)
Try to include "photo booth" into your name (it will help your website rank in Google later on) eg. Super Photobooths or Snappit Photo Booths
Check domain availability before deciding a name – make sure no one else has your name before you continue – you can use services such as 1and1 domains to do a search
Get it whilst you can – buy your domain name as soon as you can, this will prevent anyone else getting it before you!
If you are thinking of going Limited Company status – check the Companies House register (if in the UK) just to make sure nobody has already created the same company name
And finally just to be absolutely sure you won't have any issues with trademarks from the get-go – do a search of the UK Trade Marks Database or that of the country you intend to operate in
Step 5 – Marketing Your Photobooth Business
As a photobooth business, your core proposition is essentially to inject fun and excitement to weddings, parties and events. This is achieved by offering a service that captivates the audience during and after the event allowing customers to enjoy and re-live the memories of the event well into the future.
However you need to get this message out to your potential customers. Before doing anything else I would therefore recommend you put a marketing plan together which encompasses the following elements:
Identifying where your customers will come from
Local marketing ideas including wedding fairs & local wedding shops, hotels etc.
Using social media (Facebook, Instagram, TikTok, LinkedIn & others) to promote your business
Creating and maintaining website
Search engine optimisation (SEO), Google Ads and paid social media advertising
Word of mouth referrals from previous bookings and users
Your pricing
It doesn't have to be a complex plan but just something in writing that will enable you to set some marketing actions, targets and timescales to get things done.
Step 6 – Identifying where your customers will come from
The best place to start is close to home. Let all your friends and relatives know about your booth. If you have the space, set your booth up at home and invite them round to experience a photobooth.
That way they will be much more informed and enthusiastic when "promoting" it to their friends, family and colleagues. If you can stretch to it you might even want to consider booking a room at a local hall or pub to hold your booth party.
Also take the opportunity to supply your party guests, friends, family, and relatives with leaflets or posters that they can put on noticeboards at work, etc. and encourage them to share details on their social media profiles.
Next draw up a list of all the local hotels and venues that people use for wedding receptions, parties, and other events. If you have the time I would recommend paying a visit to each one to let them know you are starting a photobooth business in the local area and seeing if they would be prepared to add to a list of recommended suppliers.
Ideally, you will want to become their supplier of choice for photobooths for their customers. This might either be achieved by allowing them a "commission" for each booking they put your way or by agreeing to provide a booth for free for a charity event.
This will not only be a great way of cementing your relationship with the venue but also a great way, at least in the early days, of getting your name out there and people experiencing your service. If done properly you should be able to gain a fair few future bookings from such "free" events.
Step 7 – Getting Online and Social Media Marketing
When starting a photobooth business traditional advertising can be very expensive and difficult to track results without having response mechanisms and codes on all of your marketing activities. It is therefore advisable to initially focus on using the internet and social media to market your business as much as possible.
The first step as part of starting a photobooth business and getting online is to register a domain name to match your brand name. Unless you have grand plans to go international we would recommend registering your local domain i.e .co.uk for UK based businesses.
Ideally your booth supplier will also provide you with a website template package that also includes
Host of domain (for a period of 2 years)
Website URL
Marketing consultation and also free marketing material
Referral system (24 months)
First option on direct bookings with elite clients
Step 8 – Starting A Photobooth Business – SEO, Google & Social Media & Ads
We will cover this area in greater details in a seperate guides as there is much to learn in each of these disciplines and much more than we can do justice to in just a small section of this guide.
In addition to your website and optimising this for keyword searches you should also make use of social media:
LinkedIn

Sign up to LinkedIn if you are not already. LinkedIn is the world's largest network of business professionals on the internet. You can use LinkedIn to connect and strengthen professional relationships and help you connect with opportunities by showcasing your unique professional story.
You can also use LinkedIn to organize offline events, join groups, write articles, post photos and videos, and more.
Facebook Business Page
Set up a Facebook business page on your Facebook account and notify friends, colleagues, and businesses you know to help build up followers.
Post messages and offers on your own Facebook page so your followers can see your business activities.
You can use this page for showcasing the events you have done and the experiences you have provided, details of any special or package offers you have available as well as developments and interesting content relating to you and your business.
Its a great place to highlight the personalities of you the owner and that of your brand. It is from your Facebook business page that you can also springboard into Facebook advertising.
Instagram Account
Having an Instagram account can be highly powerful to promote your business. Photos and video are the cornerstones of your business as they are with Instagram and thus it's the perfect platform to build a following . This gives you the ability to reach thousands of potential clients for no additional marketing costs.
Twitter Account
Although usually a different audience than you'll generally see on Facebook or Insta, we have used the power of the "tweet" to great effect with celebrities and charities promoting the product to their followers, an opportunity that can only be exploited if you;
a) have an account and
b) seize the opportunity to have those hiring the product post a message about you
TikTok
TikTok in one of the latest and fastest-growing social media sites on the internet. In essence, it is a short-form, video-sharing platform that enables users to create and share 15-second videos on the platform.
It is powered by an algorithm that matches the type of content it suggests to the type of content it can see you enjoy and react to. Unlike the other major social media platforms it is therefore possible to get a large organically generated following as a new users as it is for established accounts.
It is, for this reason, it is worthwhile registering and spending time on the platform to see what type of content resonates with users and then creating similar content relevant to your business. The bias always being toward fun and entertaining content.
If you haven't already sign up for a free TikTok account here.
Step 9 – Your Photobooth Business Pricing
One key element of starting a photobooth business will be your pricing. Set it too low and you cheapen your brand, set it too high and you will put potential customers off.
First do your market research to check out the prices of any local competition, if you have any. However do not be tempted to simply set your price to match the lowest competitor.
First check out the quality of their booth and what they are offering. Are there any services that you can offer with your booth that they can't.
Is the quality of your booth and software capability superior to the competitor – think about how can you promote this to provide a better experience for your customers and ultimate command a higher price for a superior service.
Don't forget that ultimately word-of-mouth will play a big part in your future marketing strategy and setting your price too low at the when you are first starting a photobooth business can be a big mistake down the line.
Also think about where you want to take your business. Are you happy to operate a single booth and make an income that remains under the VAT threshold (currently £85,000 in the UK), or would you like your turnover to be in excess of this.
If you have bigger plans then you need to factor in that at some stage you will have to start paying 20% of your booth income to the VAT man. And with the high margins that can be achieved in your photobooth business there will not be a large amount that can be offset against this, in terms of VAT on your business purchases.
Step 10 – Enquiries & Quotations
In order to be successful in this and any other business you must approach the operation of your business as though it were you receiving the service, the product, the experience and ensure you cover all aspects for your customer.
A major element to this will be communicating with your customer before, during and after each event and keeping a record of the communications sent, received and conversations that take place.
Dealing with inquiries
Enquiries may come to you via e-mail, messaging app, phone calla or by personal referral. A polite and personal manner is required to give the customer no doubt they are enquiring with a professional business that will look after their requirements from enquiry through to post-event follow-up.
Providing a quotations
When providing a quotation we recommend that you use a standard form template to ensure that all information is given to the customer. Consider it similar to an invoice where it would include the customer's details and their request for hire.
This would include venue, location, time, date etc. If you cannot complete your quotation due to missing information, this is the perfect time to acquire this information in order to supply a quote.
Also include your terms and conditions with the quotatation.
Note: Special Offers
If you are going to offer different customers different prices, make a note on the invoice what the price should have been as well as a discounted rate. This is to prevent your discounted price quotation from being leaked around and others from wanting it matched.
Confirming a booking and initial deposit
For a customer to confirm a booking the process should be simple and straightforward. When your customer contacts you to confirm their booking this will either be via phone or through website or e-mail.
If a customer confirms they wish to book always try and speak to them over the phone or at the least via messaging, in the first instance. This will start to build a more personal relationship and is a very important part of the service delivery to the client.
As part of the booking process have a mechanism that records the clients acceptance of your terms and conditions.
Take a deposit
It is recommended that you take an initial deposit for each booking to secure the date and time. You may wish to set up a PayPal account or provide your bank details for a direct transfer to your bank account.
If your customer wishes to pay via a credit or debit card but you do not have a facility to take card payments, it is possible, if you have set up a PayPal account, that you can refer them to a link where they can pay via their card and the money is deposited in your PayPal account.
Once the payment is cleared the booking is confirmed and you should send an email to your customer to confirm. You will also need to advise the client the balance of the payment becomes due on an agreed number of days prior to the event and you will contact them at the time.
A Quick Word On GDPR
As a photo booth business owner you will be handling the personal data of customers as well as access to photos of their guests at the event. You therefore need to ensure you comply with the latest GDPR and privacy regulations. We would recommend you familirise yourself with GDPR and related regulations (see links below) and here are our key tips to keep in mind in relation to photos.
Ask your customers for consent to use photographs. Be clear about where these will be distributed. State if this will be purely on social media, or for own promotional material such as adverts and banners.
Remind your customers that their consent will account for others being photographed and published if at a group event. State that it will be their responsibility to communicate with family/friends that a photographer will be present and publicly taking photographs and any objections should be notified.
Information Commissioners Office (Official Link)
Example Privacy Policy – GOV UK (Official Link)
GDPR for Photographers (Unofficial Link)
We have also summarised some key points in this GDPR made easy article.
Step 11 – Attending Your First Photo Booth Event
Your first event can be quite nerve racking and we would recommend you create a checklist of things to do and take. Also remember the small things like charging batteries (where needed), tape, pens & paper, contact names and numbers, power extension and other cables and maybe spares of some items etc
Here are 8 top tips for attending your events:
1. Talk to the venue in advance – make sure there is electricity, and wi-fi (where required), details of parking, lifts, and any set-up requirements or restrictions etc.
2. Take business cards with you – you may be able to find new potential customers
3. Arrive early – give yourself plenty of time to set up
4. Keep any props within eye vision – make sure they stay with the booth
5. Be friendly & chatty – make it look like you're having fun!
6. Manage the crowds – try politely to stop the same people clogging the booth
7. Notify your guests how they can access their photos
8. Thank the venue – they may know someone looking for your services
Step 12 – Maintaining a profitable business
So you've got your business up and running and done your first event, but how can you keep it running? Here are 4 C's to remember in order to maintain a profitable business.
Confidence
Be confident in yourself and your business with what you can deliver and what you can achieve. Always strive for more success.
Connections
Make connections by talking to people; build a network of support who will be able to provide you with people for business. Use each event that you do to build a rapport not only with guests who are potential future customers but also with the venue staff/management. They can easily be a greart source of referral and recommendations.
Customer Service
Keep your customer service level at a high standard to ensure recommendation or repeat custom.
Competitors
Keep an eye on what your competitors are doing in order to stay competitive. If they reduce their prices, it might be worth reducing yours too.
Remember, you are like-minded people and most Photo booth owners do not see one another as 'threats'. Owners sometimes like to share business so why not see if your competitor would like to team up and share bookings that you are unable to take on?
Conclusion
Running a Photo Booth business, whether full or part-time can be extremely rewarding. Not only financially but also giving you the flexibility to determine how much time and effort you put into your business and the hours you work.
It can also be run from your home or an office and, apart from the booth and its equipment, it does not require much in the way of capital expenditure to set up and operate – a computer, printer, phone line, internet access & transport are essentially all you need to get started.
Additionally providing a fun and memorable service to your customers can also be as equally rewarding. We hope you have found this guide useful in setting you on the road to building your own photo booth business.
Should you have any further questions or require any further information please do not hesitate to contact us.
---

---