While your photographer will capture numerous beautiful photos on the day of your wedding however, they'll be focussed on your wedding and your main things happening at the dancing floor.
So for everything fun that's happening behind the scenes, that's where the wedding photo booth comes in
We're not going anywhere it's generally something that guests anticipate at weddings, which is the reason wedding planners and couples consider the idea carefully.
Do you want a modern bohemian, rustic, or chic photographer for your wedding? Do you want something that is interactive? The possibilities are endless!
If you decide to build or rent one for your wedding day, the most important thing is to ensure that it is a part of the overall style for your event. To help you make your choice, we've compiled 30 innovative photos booths for weddings that will help you think of ideas for your wedding.
Idea #1: Green Wall
The greenery blocks add an edge of modernity and a chic design to any wedding reception. Add a neon signifying your mantra amid the ferns and lush greens to create the perfect bridal photo booth! Consider this stunning backdrop of a couple for an illustration. It's like a Hollywood-style step-and-repeat!
Idea #2: Minimalist Grey Backdrop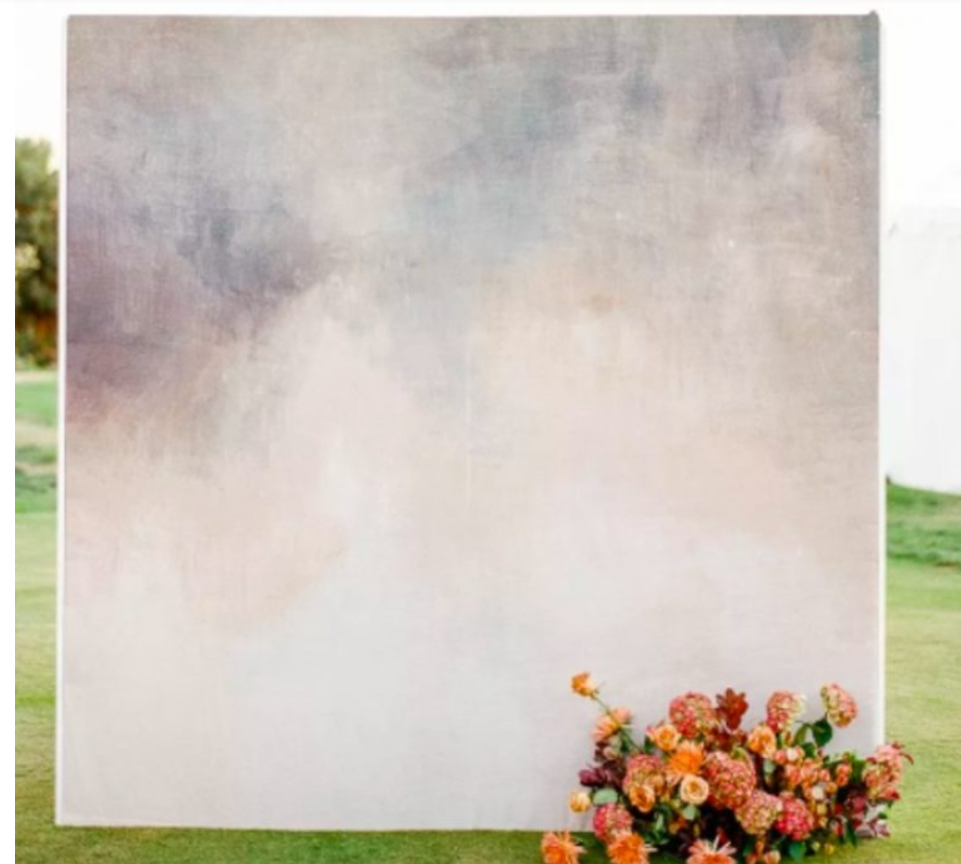 The backdrop for a wedding does not necessarily need to be extravagant. It just requires aesthetic appeal and an even setting for guests to take pictures.
Idea #3: Floral Backdrop
This is ideal for weddings in the garden or on the beach. A wedding photo booth decorated with flowers is elegant and can be installed in any venue.
Idea #4: Polaroid Frame
Who doesn't adore Polaroid photographs? It's an easy-to-use wedding photo booth concept that allows guests to snap photographs at various locations. The best part about the idea of a photo booth is you are able to include the names of your couple as well as the date of their wedding in the lower right corner.
Idea #5: Disposable Cameras
Make the switch to disposable cameras. This is the most affordable wedding photo booth option. Set them up on tables or make an additional photo shoot area that has a great backdrop to create the perfect photo shoot! The guests can easily snap pictures of one another without the need to wait in a photo booth. The photos can be created at the end of the event.
Idea #6: Photo Booth Bus
I'm certain that your guests will rush to take their pictures in this retro-themed minivan booth. The interior of the minivan would be an ideal wedding photo booth while the exterior could make an amazing backdrop. The best part is that it's easy as you simply need to engage a mobile photo booth vendor to show up at your reception, take photos and then leave at the time it's time to wrap things up.
Idea #7: Glittery Backdrop
A sparkling backdrop is the best option for events with a social aspect. It oozes class and is worthy of being showcased by your attendees' personal social media pages. If you don't want to be too flashy, choose a basic white or ivory backdrop which won't draw any attention to the venue you're planning to hold your reception.
Idea #8: Wedding Props
From moustaches to sunglasses caps to signages, props are present in all bridal photo booths. They bring out the funniest aspects that your wedding guests. If you're imaginative and have the time, you can design your own cutouts from paper for the most personal and affordable props.
Idea #9: Neon Sign
You can hear the excited squeals from the guests at your wedding. Your names, your favorite song lyrics, or even a memorable phrase lit up on neon signs to create the perfect Las Vegas wedding vibe. Be aware that the customized neon signage requires an outlet as well as that the piece of art must be secured.
Idea #10: Kissing Booth
This will take those in attendance back to their high school days and add some entertainment to your reception. A kissing booth for the wedding's photo booth can be a fun activity for single guests. You never know, it could bring them closer to their perfect match.
Idea #11: Classic Photo Booth
This will add a traditional design to your wedding reception. There is no need to explain guests the procedure and what they should do. However, these traditional photo booths only allow photographs that are close-up and not full-length ones.
Idea #12: Cutouts of Baby Pictures
In truth it's possibly the most adorable idea you've ever had. It's a tribute to the new bride's younger self. Print your baby's pictures then cut them out and then glue them onto popsicle sticks.
Idea #13: Selfie Guest Book
Another great way for guests to leave a memento to the couple's wedding as they are able to take a picture, put it in a notebook, and then write an entry.
Idea #14: Green Arch
It is great with a wide range of wedding decorations styles, including boho or beach-y industrial, vintage and vintage to mention just a few.
Idea #15: Chalkboard Backdrop
A chalkboard backdrop to a wedding is an innovative idea that will entertain both the couple as well as guests. The guests can write their wishes, funny phrases or sketches that show the personalities of newlyweds on the chalkboard. This photo booth for weddings can be a bit expensive since all you require is a chalkboard as well as, should you wish the chalk paint or stickers.
Idea #16: Sitting Area
A sitting area that can be used as backdrop for a photo booth will give a touch of elegance to your wedding reception. The guests can interact with the surroundings thanks to the furnishings, lighting as well as rugs and tables accents. You'll be amazed by the poses that your guests are able to create using the wedding photography booth.
Idea #17: Marquee Lights
The marquee lighting can give your wedding the romantic feel you want as well as their stunning and bright light will draw your guests to take part in an image shoot.
Idea #18: Balloon Installation
There is a chance that you think having balloons in your wedding is not a good idea since balloons are a part of every other occasion. However, with a sophisticated method an elegant balloon display could create a stunning frame for any backdrop to your wedding photo booth. A simple set of clear balloons, confetti and white will work for the majority of weddings, however you can opt to a more stylish style. Let your imagination run wild and create them to your own desires.
Idea #19: Hanging Lights
String lights hanging from the ceiling are an ideal backdrop for evening photographs. This creates an intimate ambience at the reception, and can also serve to add additional decorations.
Idea #20: Swings
Wedding swings create a magical or magical atmosphere at your reception. They are a fantastic option for guests to capture photos while enjoying themselves. Imagine a picture here with the bride's wedding dress waving in the breeze. It's going to look stunning. It's possible to install at least two swings if the reception location is the garden, with some trees.
Idea #21: Projector
This is a great option to couples that are film buffs. You can film your love story and then flash images on a projection screen. It is also possible to change the theme of your photos for each guest. The projector is a great tool for multiple purposes. It can show pictures or videos from the day of your wedding to keep the guests entertained while eating. You could also use it to create wedding reception entertainment.
Idea #22: Banner
It's a basic wedding photo booth concept, however, it's an extremely efficient one. The booths can be set in the open during the reception or at a different wedding location. You can decide on the style that the wedding banner will have, however most wedding banners have the romantic look.
Idea #23: Shutters
The cozy and rustic décor has become an essential element of weddings. It creates a warm and comfortable feel. The backdrop provides a sophisticated look to the area as well as allowing you to make this booth yourself by painting it the way you would like it to appear. It is also possible to add floral arrangements and other accessories.
Idea #24: Soft Drapery
A drape that is soft and delicate that hangs from the tree, or standing structure can frame the view which allows you to maximize the space you've selected.
Idea #25: Lace Tent
A lace-covered tent in the woods could make an ideal wedding photo booth if you're a fan of bohemian-inspired vibes.
Idea #26: Rustic Booth
This is perfect for couples who are planning the barn wedding, or a more informal outdoor wedding. Make use of a fence made of wood and decor like gardens tools and wheels and hay to create the perfect backdrop for wedding photos.
Idea #27: Night Sky
You can experiment with this style for night If you're looking for something romantic with a romantic twist in your bridal photo booth. Create your own night sky photo booth by creating a dark background, adorning a frame with an enormous crescent and then adding tiny stars.
Idea #28: Hanging Frames
In the case of bridal photo booths and frames hanging from trees are in fashion nowadays. This is due to the fact that they give an old-fashioned feel to the setting and are great for chic weddings. You'll require various old photo frames of various designs and dimensions, along with some fake flowers.
Idea #29: Selfie Stick
Set up an individual selfie stick at each table , and let your guests to snap memorable moments from the day of your wedding. They will be entertainedand they'll be happy because they can take a number of pictures home with the sticks. It's also possible to position your Bluetooth selfie stick on an attractive background.
Idea #30: Oversized Book
A wedding ceremony with the one you love is like something from an old fairytale for many. For the perfect fairytale for you, you could consider making use of a large book to create a backdrop for your wedding's photo booth. Include something that tells your love story that will surely be a focal point at the wedding reception.