We are the biggest event photo booth manufacturer in UK and Europe!

Take a virtual showroom tour with Robbie the Robot!
Robbie is our newest member of staff and is the easy way for you to see the full range of products available in our showroom without leaving the comfort of your own home. Simply link your computer to Robbie via the drive double portal and you can navigate your way virtually around our showroom on a guided tour with a member of our sales staff. See what it looks like in the video below.
To book your virtual tour either call us on 01384 77703 or email us.
Introducing our budget booth from £2495+VAT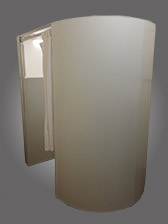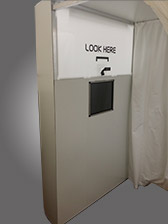 The new £2495+VAT booth is the ideal way to get your photobooth business started and can be set up and event ready in just a few minutes. The budget package includes:
| | |
| --- | --- |
| Full oval booth | White Skins |
| Front of the booth is a 1mm PVC panel | Look Here panel |
| One light in look here panel | New fabric storage bag |
| White door curtain | 19" touch Screen |
| HD Camera Logitech 920 | Mini PC running Windows software |
| Training is via manual | Software training is done online via videos but is very easy to use |
| Mitsubishi DW70 printer with 400 prints | |
Brand New Photo Pod £2999+VAT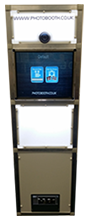 Our brand new budget photo pod is the ideal way to get started in the photobooth industry. It's 19 inch touchscreen, HD camera and Mitsubishi dye sub printer mean that creating superb quality photos could not be easier for your guests. An amazing deal at just £2999+VAT including all of the below:
19" Touch Screen
Quad core PC with pre loaded Photo Booth Software
Social media enabled
Mitsubishi DW70 printer
HD camera
Full shell
Sign written perspex panel with your logo
Carry Bag
Lighting
Photobooths, Video, Coin-Op & Social Media Booths - UK & Worldwide Exporters
| | | | |
| --- | --- | --- | --- |
| | | | |
| Blow Up Booth | Oval Photo/Video/Social Media Booths (Coin-Op Option) | Nightclub Pod | Hand Cash Grabber |
| | | | |
| Custom Build Photo/Video/Social Media Booths (Coin-Op Option) | Kids Oval Party Photo/Social Media Booths | Light-Up Letters | Square Photo/Video/Social Media Booths (Coin-Op Option) |
| | | | |
| Social Pod | Money/Cash Grabber Machine | Bullet Photo/Video/Social Media Booths (Coin-Op Option) | Candy Cart |
Why Buy A Photo Booth?

Photo Booths are quickly becoming the "must have" feature of any successful wedding, party or other event, providing not only great fun for guests but also lasting memories for both your customer; the party host, and their guests.
Additionally the massive interaction with social media channels such as Facebook and Twitter means that people are very keen to share details of their events and photos with all of their friends and social media contacts.
Combining all of these elements together with the portability of the modern photo booth, means almost anyone with the desire to set up and run their own photobooth business in this lucrative market can build a very successful and profitable operation from just one booth. Although we have found that many operators quickly add additional photo booths to build themselves an even greater income.
All of our booths are custom designed and manufactured by our engineers at our site in the West Midlands and have recently been proven to be stronger than any other equivalent product on the market after extensive testing by engineers at Coventry University.
Built using a high quality aluminium frame, all of our booth solutions come complete with DSLR camera and 1080p HD webcam to ensure the highest possible still image and video recording quality. The systems assemble easily in under thirty minutes with full instruction given on the assembly process prior to delivery for UK orders. Overseas customers get full access to our bank of online tutorials via our members site and if required we can also give instruction via Skype conference call.
We ship photo booths booths to customers all over the world to countries including:
Ireland
France
Australia
USA
Jamaica
To read full testimonials from our overseas clients click
here
FREE - Essential Guide to Setting Up a Photo Booth Business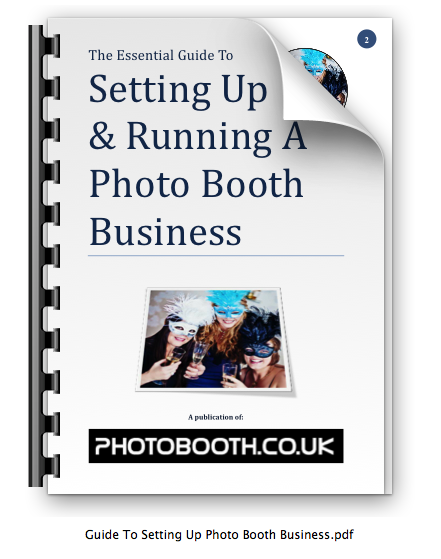 In this guide you will learn how to tap into this lucrative market along with the essential steps and information you will need to set up and run your own successful Photo Booth business.
To claim your free simply book an appointment to come and visit our showroom by calling us on 01384 77703
Why Choose Us For Your Photobooth Business?
Photobooths.co.uk are part of Global Photo Booths Ltd, one of the pioneers in the development of the mobile Photo Booth for sale in the UK and now ship our range of booth frames, systems and software across the globe.
The team at Global are also responsible for the development of "PBPro" a software system designed specifically for mobile Photo Booth operations as well as the creation of the "Bullet Booth", the "Kids Party Booth" and the famous "New York Taxi Cab Booth".
Global are the the leading company in the UK for portable photobooth systems, frames, software and equipment and have to date shipped mobile photo booths to over 100 operators across the UK and worldwide, including photobooth sales to operators in Australia and Kazakhstan.
We don't feel the need to trash talk other companies products as our product speaks for itself, we are professional and don't need to use this unprofessional sales tactic.
We actively encourage customers to go and see other companies so you can make your mind up as we are sure that you will see that no one else on the market can compete with the features and qualities of our booth:
Frame : The new 2013 patent pending model tested to be the strongest frame on the market by Coventry University in 2014.
Software : Sponsored by Mitsubishi, used by BBC, ITV, Jessops, Microsoft to name a few.
Tested on over 3000 events to be the best in the Photobooth business. Other features, Marryoke, Facial Recognition, Sketch a Pic.
Support : Three full time staff on 24 Hour support via telephone, email, Forum
Factory Built : All our systems are factory built, we don't assemble, we manufacture.
Patented system: Our frame is PCT patent pending
Marketing : We will show you how to market your booth, system used by photobooth.co.uk on over 3000 events.
Website: Free template website with video tutorial and event management system.
Worldwide: New factory in Moscow manufacturing to Russia and surrounding states.
Below are some of the brands we have built and supplied booths for:

Important Note:
Not All Photo Booths are the Same...
Most companies offering booths in the UK use a standard frame system and load Breeze software onto the booth. Breeze was originally developed a remote camera control and image processing package and not as a ground up, bespoke Photo Booth system. So whilst the booth might look the same they cannot offer the true versatility now being sought by booth operators for continual smooth & hassle free operation of rentals and bookings.
Having this versatility gives you the freedom to offer your client something different instead of basing your business solely on price, giving you "THE EDGE" on your competition. Our frames are patent pending Fire retardant quick release system, that can be changed from a normal round booth to a square or bullet shape booth in minutes, again giving you versatility with different shaped booths making your company look like you operate more than just one the standard oval.
Although we do not recommend Breeze as a photo booth package, If you would like one of these booths we can supply the booth and the Breeze software for Only £5899 Plus VAT saving you over £2000 on other available systems in the market. Other limitations you may encounter is in the use of a DSLR for video,which in most cases only provides your customers with 15 seconds of recording time.
By choosing Photobooths you can be assured you are dealing with the UK's number 1 portable photo booth manufacturers and be confident that unlike many other booth companies all aspects of your support and warranty will be in place if and when you need it !!! By Buying from us you are safe in the knowledge of a large corporation that sells globally and has offices in Singapore, Moscow as well as Australia. With over 13 full time employees and 32 part time employees we are the Biggest dedicated Portable Photo booth company in the Europe. Our booths, equipment and software are thoroughly , tried and tested having been used at over 2000 events in 2012.
Start Your Photobooth Business Today
Software.

PBPro is our unique photo booth software that has been designed from scratch to meet the needs of today's portable photo booth operators.


Find out more...

Flexible Finance.

Through selected specialist finance partners we are able to over a range of options to finance the purchase of your booth so you can get up and running sooner rather than later.


Find out more...

Visit Our Showroom.

Visit our photo booth showroom in order to view the different types of booths available, try them out, meet our staff and ask all the questions you want.


Find out more...
Your Choice Of Photo Booths
Bullet Booth

Our Bullet Booth is the latest in photo booth design and construction. A sleek modern looking design capable of accommodating up to 10-12 people at anyone time.

 

Oval Booth

One of the most popular options for those looking to buy a photo booth. A sleek modern looking design rounded at both ends and capable of accommodating up to 6-8 people at anyone time.

 

Square Booth

The original portable photo booth business design. A solid and sturdy traditional photobooth style and construction, capable of accommodating up to 10-12 people at anyone time.

 

Custom Booths

Looking for something a little different to really stand out from the crowd? Want you booth fitted into a Classic Car or Campervan. We have the facilities and expertise to build your booth to more or less any design you can think of.

 

Kids Photo Booth

The increasingly popular Kids Photo Booth is proving a hit at childrens birthday parties and gives parents a new and fun alternative to the bouncy castle, magician or clown!.